Research

Blast Driven Instabilities
Motivation: The unique mixing driven by blast waves can be highlighted by the behavior of a radially propagating blast wave. As opposed to a typical shock wave, the impulsive pressure rise decays as the wave propagates because the rarefaction wave is located directly behind the shock front.
When a blast wave interacts with an interface this initial impulse causes the start of the Richtmyer-Meshkov Instability. However, almost instantaneously after, the presence of the rarefaction wave causes the onset of the Rayleigh-Taylor Instability. Complications arise due to the divergent, non-cartesian, compressible, and variable acceleration profile of the problem, which has made the phenomena very hard to simulate.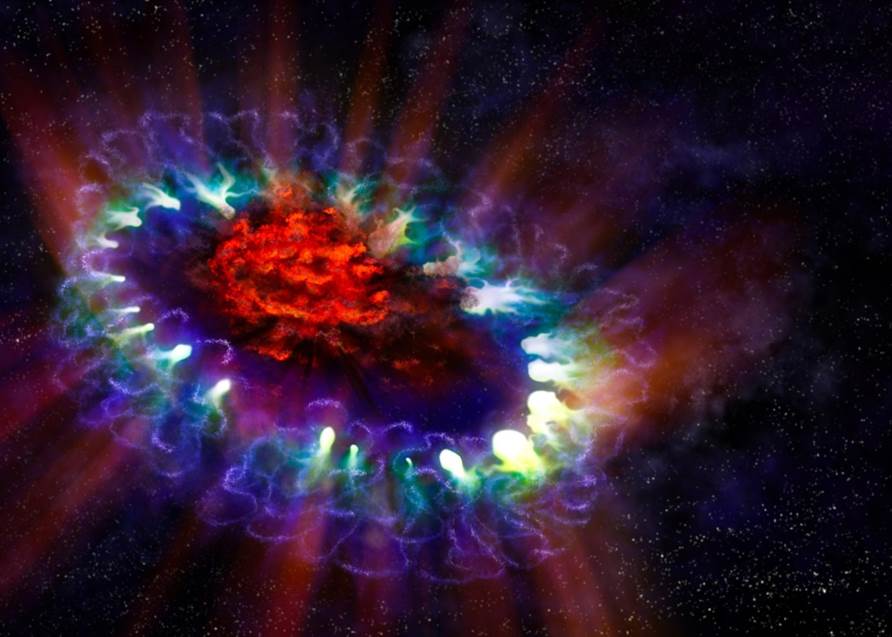 Blast driven turbulent mixing is present in several natural and man-made phenomena, including Inertial Confinement Fusion and Supernovae. To date, modeling efforts have not been able to reproduce the observations from real world supernovae, such as SN1987a. Furthermore, high energy density experiments have not been able to resolve the spatial and temporal details to solve these discrepancies.
An understanding of the hydrodynamic mixing in the outer shells of supernovae is important due to its possible relation to element creation and mass ejecta in theses stellar events, making it of potential importance in the formation of solar systems. The mixing that occurs at the interfaces between different gases in the supernovae undergoes both the Richtmyer-Meshkov and Rayleigh-Taylor instabilities.